Rocket Launch Photos from Vandenberg Air Force Base
You can check out Paul Winn Photos here
Delta IV Heavy SlideShow
Click Here for Slide Show 800x600
Tony Galvan Photos
More of Tony Launch Photos can be found here
http://www.dosgatos.com/au/vafb.htm
This morning's Fri 3/4/2011 Taurus XL launch failed to place the NASA Glory satellite and three nano satellites into orbit.
300 seconds into the launch the rocket's shroud failed to open properly.
The rocket crashed into the Pacific Ocean.
Here's a shot with Castor, Pollux, Regulus and Procyon very visible. Launch was at 2:09 am PST.
Sun 2/6/2011
A Minotaur 1 rocket carrying a classified demonstration payload for the National Reconnaissance Office lifted off from Vandenberg Air Force Base this morning, Sunday, at 4:26 am PST. The launch was initially scheduled for 4:26 am PST on Saturday morning but technical problems caused the launch to be delayed until today.
The rocket uses decommissioned first and second stages from the Minuteman 2 rocket for the main boosters and the solid-propellant rocket motors from a Pegasus XL rocket for the third and fourth stages. This custom configuration is ideal for launching small satellite payloads and has been used in 30 successful launches.
The Minotaur 1 was first used in 2000 and can be launched from four other commercial space ports. The other space ports, in addition to Vandenberg Air Force Base, California include Cape Canaveral, Florida, Wallops Island, Virginia and Kodiak Island, Alaska.
This view shows the rocket lifting off from Space Complex-6 at Vandenberg and heading south for a polar orbit. The bright spot in the rocket's path is the first stage separation.
Delta IV Heavy, Vandenberg AFB, CA
January 20, 2001, 1:10pm PDT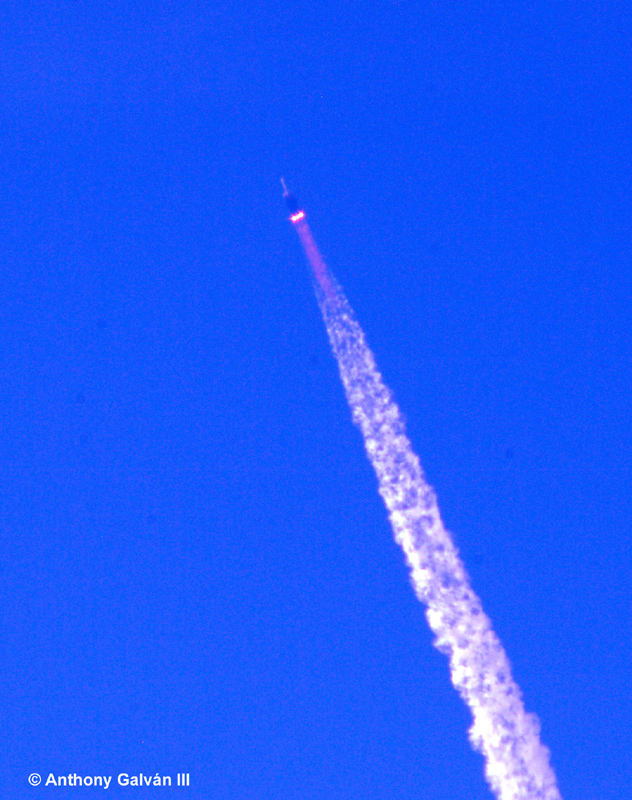 30 seconds into the flight and the three boosters are still running.

Exposure: 1/500, f/5.6
Film: ISO 400
Lens: Fuji S2, DSLR, Nikon 300mm.
Location: Figueroa Mountain, California.

The Delta IV Heavy was the largest rocket to date launched from Vandenberg. Carrying a reconnaissance satellite, the 23 story

rocket used three boosters which produced over two million pounds of thrust. The large rocket was launched from Space Complex 6

which was initially designed to launch the Space Shuttle from Vandenberg.