Upcoming major activities beyond Outreach Events Calendar
Friday, January 6th, 7 PM

2017 Our first monthly meeting of the year.
Cachuma Lake Campout 2016 Video

Sky and Telescope
This Week's Sky at a Glance
AU outreach volunteers were at it again in 2016!
As of the newsletter deadline we are at 219 events for the year, with attendance of 15,243. Again this year, over 30 members earned membership extensions. Remember, just help out at six AU outreach events in a year, and your membership gets extended a year, for free!
---
Friday, January 6th, 7 PM

2017
Our first monthly meeting of the year in Farrand Hall at SBMNH. Our speaker for the January meeting will be Joshua Garber, a Ph.D. Candidate from the Department of Earth Science at UC Santa Barbara. The title of Joshua's talk is "Earth in Context: A Uniquely Favorable Planet for Life." He summarizes the content of his talk as follows: "The development of life on Earth arose from many fortunate circumstances, such as favorable planetary surface temperatures, the development of a magnetosphere, the presence of an oxygen-bearing atmosphere, and the onset of plate tectonics. What makes these circumstances unique to Earth? Could life have formed on other planets in our solar system, or in other parts of the universe? In this talk, UCSB PhD Candidate Josh Garber will discuss one geologist's view of where we came from, some of the features that make our planet hospitable, how other rocky planets in our solar system evolved, and what we are looking for to discover other habitable planets elsewhere in the universe."
Click this link for a listing of our past speakers
---

---
SBAU Telescope Workshop Every Tuesday 7:30pm to 9:00pm
"Want to learn how to make your own telescope or learn more about astrophotography? Well, the SBAU has a Telescope Workshop! At the Telescope Workshop, we cover construction techniques for mirrors and telescopes, but also optics, cameras, and image processing software discussions. We encourage novice astronomers to come, ask questions, and even build, while advanced members are re-invited to attend if they want to discuss telescope issues not covered at the monthly meetings or just to help out. Check out http://sbautw.blogspot.com for a sample of past weekly Tuesday night sessions at the Broder Building at the Museum of Natural History."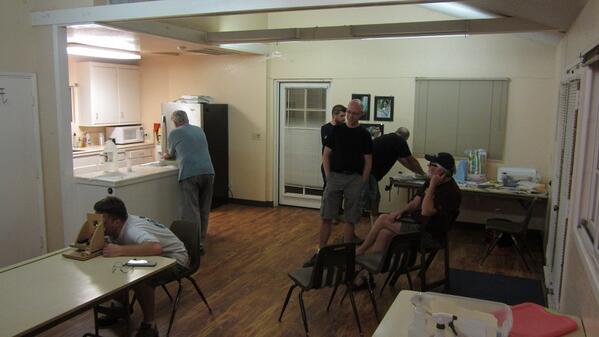 ---
All the Red Dots Show where people have viewed our site from Around the World