Celebrate the Night Sky
Join the world's largest celebration of astronomy — Global Astronomy Month — throughout April. - See more at: Sky and Telescope
Monthly AU Meeting in Farrand Hall
Friday, May 2nd at 7:30 PM
Our guest speaker, from NASA/JPL will be George L Carlisle, presenting:
"Futures Past, Futures Present: The Past and Future of the Space Program" which will be a review of space mission possibilities, using images from early science fiction and space science, to the space programs of the future, actual and theoretical.
George Carlisle has been an Aerospace engineer since 1970 (B.S. from University of Texas and post-grad studies at UCI, UCLA, USC). In 1968, before graduation, he interned at the then Manned Spacecraft Center (now Johnson Space Center) in Houston. He helped develop backup onboard return and entry guidance techniques for Apollo 8 (first manned mission to orbit moon). One of these techniques is depicted in the movie "Apollo 13". (No, it wasn't made up on the spot, as shown in the film.) George moved to California in 1969, spending 1970 – 1974 working on Apollo and Skylab (first US space station) and then a proposal to send people to Mars using "surplus" Apollo hardware.
---
Sunday nights, 9-10 PM ET/PT.
After the cross-network premiere event, COSMOS: A SPACETIME ODYSSEY will continue its epic 13-episode run, airing Sundays (9:00-10:00 PM ET/PT) on FOX, and Mondays – with all-new bonus footage and behind-the-scenes content – on the National Geographic Channel (NGC) (10:00-11:00 PM ET/PT).
---


Planetarium Shows & Times at the
Santa Barbara Museum of Natural History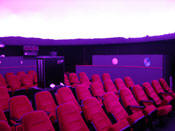 Fun For Kids: